Team Management: How do you deal with unsatisfactory results?
November 5, 2021
2022-05-23 14:24
Team Management: How do you deal with unsatisfactory results?
Team Management: How do you deal with unsatisfactory results?
As a business owner, it is up to you to lead your team forward and ensure every member of your team is performing at a high level.
But despite all your best efforts, there will inevitably be times when members of your team do not produce the outcomes you expect.
So how do you deal with a member of your team producing unsatisfactory results?
To be an effective leader, you need to be truthful and honest about the performance of every aspect of our business – including your own performance, as well as the performance of your team. You need to think about truth, not fear. There is no grey zone.
This requires emotional intelligence, and you have to give people some freedom, but ultimately people's activities will lead to a measurable outcome. People's outcomes are either a +1 or -1, a positive or negative.
Your ability to be truthful about whether it is plus or minus is a critical component to move forward with a culture of open, honest, transparent feedback. The way to do that is to separate the people from the activities, while still being honest.
When there's an issue to be addressed, it's never about you're not good enough. Your approach should be to address the outcome, not the person.
So, the way to deal with unsatisfactory outcomes is: you're good, but what you did here is not good enough.
This is a key distinction, and it's critical to understand this to become a top ten Productivity Diamond. It's about your ability as a leader to look somebody in the eyes and say, 'You're very good, but your decision-making this time was not so good.'
It's the key to guiding people to being promotable and not deselected. If people feel that they are valued and that they've just made a mistake this time, they will be motivated to correct their error and focus on being better tomorrow.
That's being promotable.
But if people feel that they are constantly being criticised, that their input isn't valued, and that they are not aligned with the people above them, that leads very quickly to demotivation and then deselection.

Always give feedback based on truth, never fear. Always hire on truth, never fear. Always select and deselect based on truth, never fear.
This applies to your managers, team, supply chain and customers. People are promotable or they are deselected.
When it comes to the hiring of people and the growth of the people in your team, always hire on truth. If they are not good enough they do not get hired.
It's that simple.
It's not about, hey this person is probably okay, and we really need to fill this role, so let's hire them and see how it goes. That's a recipe for disaster. The general rule of thumb is you hire slow and you fire fast.
Over the next few weeks, I'm going to go into more depth about how to build and manage a high performing team. I'll discuss everything from the selection process, how to conduct performance appraisals, and what to do when someone leaves your business.
As a starter to the series of messages I'll be sharing… be sure to listen to this week's podcast if you haven't already listened!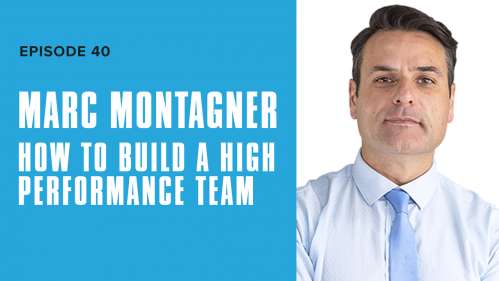 This week's episode features my good friend, Marc Montagner, who shares his decades of experience to give advice on what it takes to build a high performance team.
We've been receiving tremendous feedback about the podcast. We have big things planned for 2019, so make sure you subscribe to our podcast on your favourite platform to never miss an episode.
Power to you!
Stefan Kazakis
Founder, CEO – Business Benchmark Group
---

Could you use some guidance to run a more successful business? Contact Business Benchmark Group – we offer free workshops so you can "test drive" our coaching with no obligation whatsoever. 

Call 03 9001 0878 today, or get in touch through our website.