How to Build Your All-Star Team: Always be on the lookout for A-Grade employees
March 26, 2022
2022-04-01 17:15
How to Build Your All-Star Team: Always be on the lookout for A-Grade employees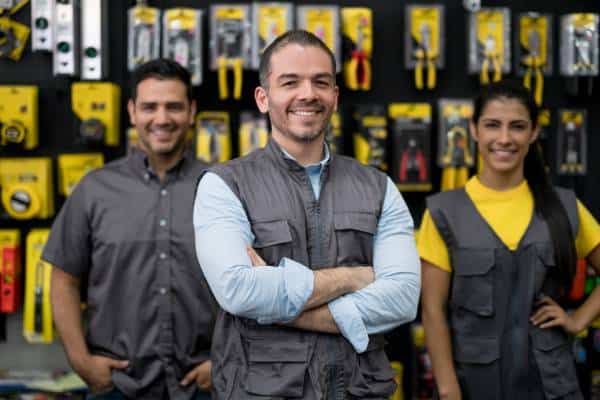 How to Build Your All-Star Team: Always be on the lookout for A-Grade employees
The right team will be a massive boost to your business. There's no doubt about it.
To get the job done, you need the right people in the right seats. While the lone ranger mentality was necessary in the early days of your business, growth is limited when it's dependent on one person.
You can't be great at (or manage) everything. You need to plug the gaps in your skill set with people who do things better than you.
Remember, as the business owner, you are not another tradie on the tools. It's your job to know a little about everything, and your team's job to excel at their specific job role.
If you look at your business like a football team, having a great goalkeeper in play means you don't need to worry about that position anymore.
When you don't need to worry about the day to day operations, because your team is on top of everything, you can focus on developing exciting new opportunities for growth.
This team formation is the ultimate result for your business, so you can move on to bigger and better things.
So, how do you find these people?
Recruiting 24/7/365
You might wonder "how do other businesses do it? They always seem to find the best talent for their team!"
But what you need to understand is that they're not finding these people on a whim. They're actually always looking for A-grade people!
You need to take a head hunting approach all day, every day, rather than the more common approach – "bugger, I need somebody right now – I'll put the job on the internet and hire the first person who seems fit to do the job."
As with everything in business – this switch takes you from reactive to proactive. Being reactive often simply puts a bandaid over the issue, and being proactive stops it from being an issue in the first place. You are future-proofing your business.
Scouting 24/7/365 means every day you are preparing for the future. Every day you are on the trail of the right people for your business. Every day you meet people who could join your team.
Good people are always out there, and they are alert to opportunity. If you're constantly looking, they will show up.
As in music, sport, politics and any other walk of life, the elite teams become the benchmark. Those organisations that get the best people tend to get a lot of people applying for each position, and the quality of applicants is higher.
It becomes a cycle: the more A-graders you have on your team, the more A-graders you will attract.
To be an employer of choice is critical and fundamental to your long-term growth.
Could you use some guidance to run a more successful business? Take our 3-minute Business Health Check to identify gaps and key areas of opportunity!
Or get in touch through our website or by calling 03 9001 0878 today.