Do you have a victim or a victor mindset?
April 16, 2021
2021-07-30 12:05
Do you have a victim or a victor mindset?
Do you have a victim or a victor mindset?
Think back to the last time when you "played the victim". Perhaps you're blaming your business downturn on COVID and the Government's lockdowns. Maybe someone said something that insulted or disrespected you, and you held on to that resentment far too long.
You are human, and human beings will feel those emotions. But the difference is how long you hold on to those emotions? How much does it cloud your decision-making or affect your motivation?
Do you tend to wallow in self-pity for days, blaming others as you mumble under your breath.
Do you sometimes think the whole world is against you?
Or do you pull yourself together, realise that you can only affect things within your control – and so you're quickly focused on working to better your future?'
This is the difference between a victim and a victor mindset.
Do you live ABOVE or BELOW the line?
The diagram below shows two different ways you and your staff can approach things. Above the line are the ingredients for success, below the line are the ingredients for failure.
Unfortunately, many businesses choose to operate below the line in an environment of blame and lack of trust, and with a victim mentality. Operating above the line requires more energy and effort, which is why many people stay below. But above the line is where you achieve victory.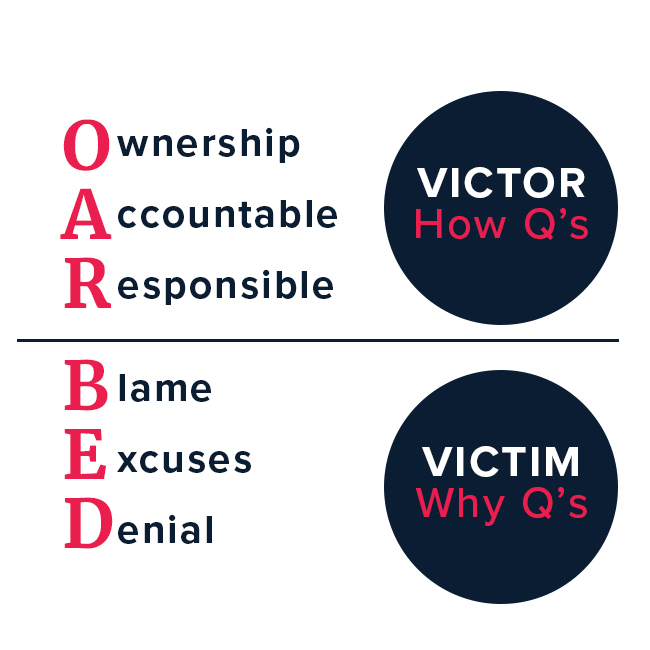 Have a think about your business. Are you and your team members above or below the line?
If the answer is above, you get a gold star. If the answer is below, you need to make some decisions about what you are going to do about that.
And remember, you need brutal truth. You can pretend you are above the line if you like, but the only person you will be fooling is yourself, and that doesn't help you a whole lot.
Moving on up
If you are currently operating below the line, how do you take yourself and your staff above? The answer I often hear to this question is leadership, but I think leadership is an overused term.
Showing leadership is certainly important, but it doesn't magically solve all your problems. Getting from below the line to above is about management.
It's about actively intervening to steer your ship in the right direction. Yes, doing this yourself and showing leadership is part of the process, but there's much more to it than that. It's about getting the culture right and the rules of the game right.
To find out how your business is travelling in this regard, score each person on your team as above or below the line – including you.
Rank everybody as a +1 if you think they operate above the line or a –1 if they are below the line. You can rank them as +1 if you think they are below but are close to being above and you think you can get them there.
Once you decide on the culture that you are going to move forward with you need to manage people from each stage to the next.
Take them from denial to excuses to blame to responsibility to accountability to ownership. If you have staff who are operating at denial or excuses you can do your best to move them up if you think they can achieve this, but you might be better moving them out.
What is the percentage of your team that is above the line versus below the line?
Now it's time to ask yourself a brutal truth question: how did they get there? Who led them there?
The fish rots from the head down.
If most of your staff are below the line, is it possible you are the problem? So, what are you going to do about it? You cannot just lead people away from below the line, you need to manage them.
People in denial need to be given ultimatums. You're either going up or out. People who are in denial in your business will rot everything.
If you are comfortable with staff being in denial it's either because you are lazy or you don't know how to get them out of this stage.
How do you manage people into not giving excuses?
Within your business, make it a habit to ask more how questions rather than why questions.
How questions take you forward and solve problems, why questions leave you going nowhere and looking for somebody to blame.
When something goes wrong, ask, 'How are we going to fix this so that it doesn't happen again?' That allows people to be proactive and take responsibility for solving the problem.
Simply asking, 'Why did this happen?' is thoroughly unproductive. It doesn't actually solve the problem and it leaves people trying to point the finger at everybody else. If you ask more how rather than why questions, you will get solutions rather than excuses.
This is also an area where it's imperative that you know your scoreboard. You'll have problems moving people out or up if you don't have the data for your business. You'll keep getting excuses from staff and you'll have no way to refute them because you don't have evidence. How do you manage blame?
A culture of pointing the finger is – sadly – common in many organisations. One of the keys to removing blame in a business is making sure you are creating rhythm in meetings where open and honest conversation is allowed.
You need to be proactive to lead this so that your team members become reactive to the opportunity to be counted upon.
Give them the opportunity to prove themselves.
Challenge them. Let them take responsibility and give them the chance to rise to the occasion. For your business to be effective all your staff need to be at least at the level of responsibility.
Have you provided an environment to give them the ability to respond? Are they responsible because somebody is looking over their shoulder (fear) or are they responsible of their own accord? Somebody who is only responsible when somebody else is watching is a potential de-selection.
Somebody who takes responsibility for themselves is a candidate for promotion. Is it a push or pull system that you've created to hold people accountable? People in denial need a push, either up or out. What is the scoreboard that people can use to see what they are achieving?
How are you going to move forward in accordance with your plan? Ownership is about loyalty and growth. It's not something that's in your back pocket, it's in the heart and mind. When people in your business reach this stage they are just as committed and motivated as you are. They have bought into your vision and dreams and accepted them as their own.
Give your staff a plan and scoreboard and the opportunity to hit it out of the ballpark.
Create an environment where people have the opportunity to succeed, big time. To get the best results you need to hire people on attitude and you need to lead on attitude.
And what about you? Which one are you sitting on? Which would you like to be sitting on? What are you going to do about it?
---